Forming KickballTeams Now!
---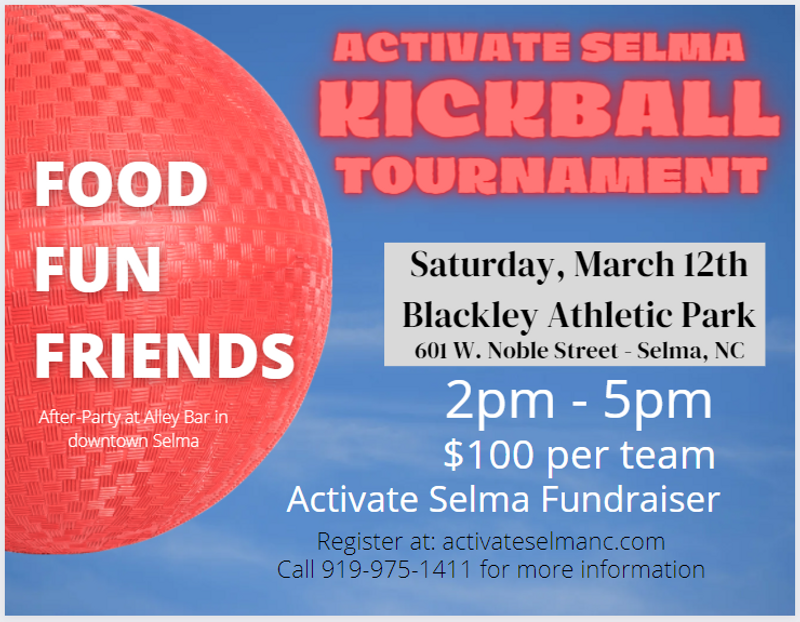 Come join the fun and fellowship in our Inaugural Activate Selma Kickball Tournament. Open to citizens of Selma and surrounding communities. 
Date of Tournament: Saturday, March 12, 2022
Place of Play: Blackley Athletic Park – 601 West Noble Street, Selma
Ages of Players: 21 – 98 years old
Total Teams Allowed: 4 teams
Entry Fee: $100 per team (Team consists of 10-12 players total)
Deadline for Entry with Full Payment: Monday, March 7th 3pm
Make Checks Payable to: ACTIVATE SELMA
Mail Check to:  Activate Selma
                               c/o Barbetta LLC
                               207 S. Pollock Street
                               Selma, NC 27576
                               Attn: Kickball Tournament
For an entry form, email [email protected].
Information needed for entry form:
Team Name
Manager's Name
Manager's Address
City, State, Zip Code
Team Manager's Cell Phone
Team Manager's Email
Each team must submit the roster sheet with their registration form and check written to: 
Activate Selma
. The roster of up to 10 players on each team must include player's name and phone number. Communication will be with the Team Manager. However, it is important that we have all players contact information on file.