Activator Todd Daniels of On Beat, a ministry of Selma Baptist Church
---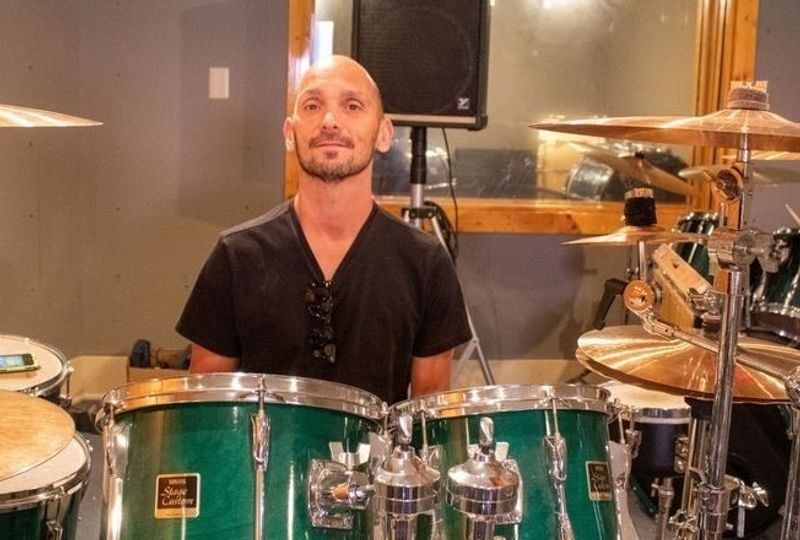 Selma Baptist ministry helps young people stay on beat
July 03, 2022
The Rev. Todd Daniels is pastor of Selma Baptist Church and the leader of On Beat, a drum ministry. Debbie Herrera | Johnstonian News
SELMA — The Rev. Todd Daniels is, literally, a drummer helping young people stay on the right path, or what he calls "on beat."
"As a drummer, when you get off beat, it throws the entire band off, so it's the drummer's job to keep everyone on beat," said Daniels, the pastor of Selma Baptist Church. "So I just kind of took that. I wanted to encourage kids to stay on beat with their faith and to not get caught up in the stuff that's out there in the world."
The result is On Beat Drum Ministry, an idea that Daniels hatched at his previous church, where he was the youth pastor for more than 17 years. "I came up with the whole On Beat thing for the youth service there," he said. "We got really loud."
"We wanted to create a cool environment for kids to bring their friends," Daniels added. "We had pizza and stuff like that."
Daniels said he knows what it's like to stray from the straight and narrow. "I had a pretty much messed-up adolescent period," he said."I dropped out of high school, and I got caught up in some stuff. I wasn't a horrible kid, but it was rough. Music became an escape for me."
His story no doubt sounds familiar to some Selma young people. "I think my story relates with a lot of kids in this community because I know some of them are dealing with those hard issues," he said.
The Selma Baptist On Beat ministry launched with more young people than drum sets.
"When we first started, we had 13 kids coming from the church, and all I had was one drum set and some marching band drums that SSS gave me," Daniels said, referring to Smithfield-Selma High School.
But thanks to a benefactor, the drum ministry did have its own building, and the young people still meet there.
"A gentleman from the community used this place as a recording studio," Daniels said during an interview in a former downtown Selma storefront. "He donated the building to us, and he pays the utilities on it for us because he loves and supports what we are doing here."
The whole community has been supportive, Daniels said. "Everything here is from donations, including everything in our snack closet," he said.
The young people in the ministry do more than make music, Daniels said. "It's more than just about playing drums," he said.
The pastor also teaches them strength, determination and perseverance, which he sees as keys to becoming successful in drumming and in life.
"Your greatest strength is your commitment to anything," Daniels said. "I tell them you gotta be committed, and that's what your greatest strength is — your commitment to something, anything."
He added: "I tell them that there will be times when you're tempted to quit, but you gotta keep going. If you commit and stay determined, you persevere."
The ministry is open by application to young people in middle school through high school.
"I like teaching kids fifth grade and up because they can reach the drums and their attention span is long enough for me to teach," Daniels said.
Applications are available on the Selma Baptist Church website at selmabaptistchurch.com.
"They may never play drums again, but they'll never forget the time they were here," Daniels said