Red Vest Impact Day #1 Lowe's #100Hometowns in Selma NC
---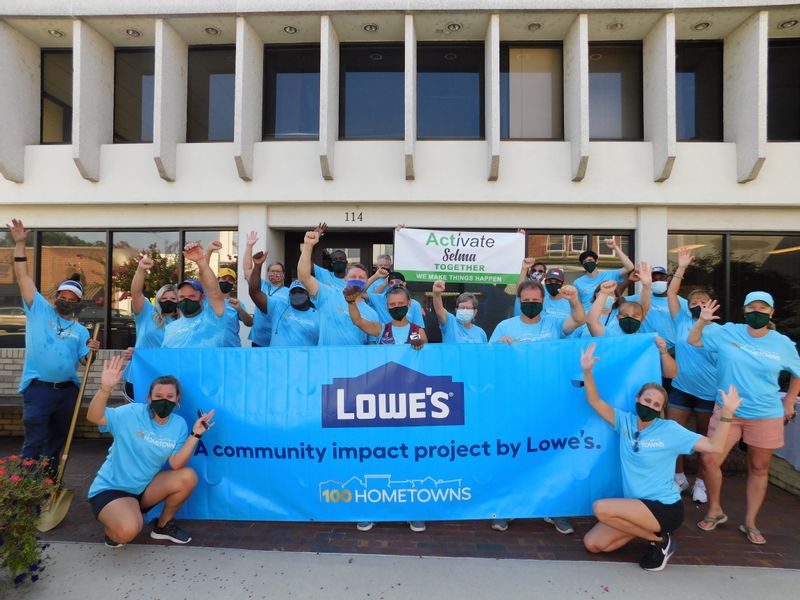 THANK YOU so, so much for donning your work gloves and literally "digging in" to help with the first Lowe's 100 Hometowns Red Vest Day this past Tuesday in Selma. It was a HUGE undertaking and we could NOT have done it without everyone's help.
To recap – we removed weeds and old mulch, laid fabric, planted new plants, divided some plants, plopped daffodils all over and finished off with new mulch in all of the island beds along South Raiford and two beds at North Raiford and the front of Town Hall and the back of Town Hall.
This work was done by 24 volunteers from 9:30a-2:30p
It's very satisfying to know that when the call to pitch-in is sent, warriors like you will answer the call.
Selma resident Silvia Danielson was our photographer/videographer extraordinaire. The waters and Gatorades were furnished by KS Bank, Inc. of Selma. The lunch was catered by Pixie Dust Lunch Box and Bakery Shoppe here in Selma. The Town of Selma opened the Selma Civic Center for us to enjoy our lunch in colder, more pleasant air. Please thank all these generous people the next time you see them.
Our next Red Vest Day will be in September. We will know the exact date in about a week. We are finalizing some plans.
In the meantime, please be sure if you post any pictures from the event that everyone is wearing their mask and you tag Lowe's with #100Hometowns in the post.
-- Melissa Dooley, Event Planner, Town of Selma
Parks and Recreation Department
Physical Address - 112 E. Anderson Street – Selma, NC 27576
Mailing Address – 114 N. Raiford Street – Selma, NC 27576
919-965-9841 ext 8003